Latinx Affinity Group - During lunch at CMC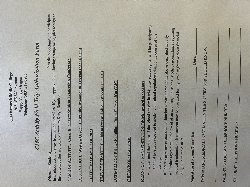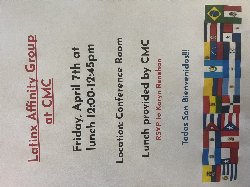 What

Latinx Affinity Group - During lunch at CMC

When

2/10/2023, 12:00 PM

–

12:45 PM
This Friday, April 7th during lunch (12-12:45), there will be a meeting for the CMC Latinx Affinity group conference room! Come join us!! Lunch will be provided :) Please let me know if you plan to attend by responding to this email by Thursday 4/6.
If you are in 9th-11th grade and have signed up for the Cesar Chavez Student Leadership Conference on April 21st, please make sure to attend this meeting for more info about the event and bring your signed permission slip to the meeting. You can pick up another permission slip in my office and I attached it here too. Thank you!!
Karyn
--
Karyn Renehan
She/Her/Hers
*****************************************************************************
Hola estudiantes!
This Friday, February 10th during lunch (12:00-12:45) at CMC we will be holding our second meeting of the year for the Latinx Affinity Group! You are invited to join this group even if you did not attend the first meeting!! Our goal is to make this a student-led group to have fun and connect with other Latinx students at CMC throughout the rest of this year.
Please RSVP by replying to this email by Wednesday, February 8th to let me know if you plan on attending.
We will be meeting every other Friday at lunch at CMC and food will be provided.
Todos son bienvenidos!
Latinx Affinity Group at CMC
What is an Affinity Group?
An affinity group is a group of people who share interests, issues, and a common bond or background, and offer support for each other.
Goals of this group include affirming student identity, building leadership skills, and creating opportunities for college and career development. This group aims to support, celebrate, and promote Latinx culture and positive student identity at CMC.
Karyn
Copy to Google Calendar
•
Download iCal Event