Graduates! Now is the time to apply for FAFSA/ORSSA! See link and flyer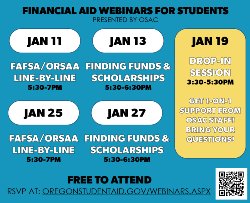 What

Graduates! Now is the time to apply for FAFSA/ORSSA! See link and flyer

When

1/17/2022
Hello Class of 2022!!
For those of you applying to colleges, universities or career technical schools and will need financial aid, THIS IS THE TIME TO APPLY!! There are some excellent help sessions coming up this month for Oregon students for FAFSA/ORSAA help and also for upcoming scholarships for Oregon students. Please take advantage of this resource to get hello directly from the experts!! Visit
https://oregonstudentaid.gov/webinars.aspx
to register for these free sessions.
Copy to Google Calendar
•
Download iCal Event