ATTN 9th & 10th Graders - FREE CCC Summer Classes - Deadline to register May 1st - See below & Attached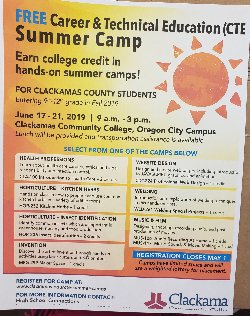 What

ATTN 9th & 10th Graders - FREE CCC Summer Classes - Deadline to register May 1st - See below & Attached

When

4/4/2019
Hello CMC 9th & 10th grade Students,
Check out this amazing opportunity to earn college credit over the summer - for those of you wanting to explore a career, please consider taking these free Career Technical (CTE) classes at CCC over the summer!! Flyer is attached.
See your CMC Counselor if you have questions! These classes are first-come, first-served so sign up now!!
Read more and sign up for this great opportunity here!!
https://www.clackamas.edu/academics/academic-offerings/high-school-connections/summer-programs
Career Technical Education (CTE) Summer Camps for Students )
Free CTE Summer Camps offer students the opportunity to experience college and earn college credit during week-long hands-on classes focused on career and technical areas such as horticulture, health sciences or industrial technology. The CTE Summer Camps are open to students who live and go to school in Clackamas County and are entering ninth through 12th grade in fall 2019. The summer camps include: Health Sciences, Welding, Horticulture, Website Design, Music & Film and Invention. Students must register in advance and space is limited! Please see the attached flyer for information. Registration is available here (deadline is May 1st)
https://www.clackamas.edu/academics/academic-offerings/high-school-connections/summer-programs
Copy to Google Calendar
•
Download iCal Event