Baile at Milwaukie High School for all NCSD Students on Friday, March 3rd - Perm. Slip Attached - RSVP to Karyn by Thursday, March 2nd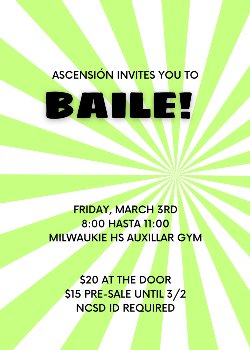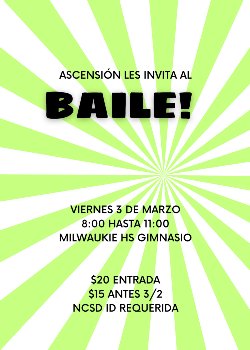 What

Baile at Milwaukie High School for all NCSD Students on Friday, March 3rd - Perm. Slip Attached - RSVP to Karyn by Thursday, March 2nd

When

3/1/2023

Where

Milwaukie High School
Milwaukie High School's Ascension/Latinx Group is hosting a Baile for all NCSD students this
Friday, March 3rd from 8:00pm - 11:00pm at Milwaukie High School.
If you would like to attend, tickets are $15 until this Thursday and $20 at the door. Students must have NCSD school ID and can bring a guest from another school district with this form filled out:
2023 Ascension Baile Guest Permission Form.
If you are interested in attending, please let me know no later than Thursday, March 2nd so I can add your name to the pre-approved student list!!






Copy to Google Calendar
•
Download iCal Event