Eat at MOD Pizza in Happy Valley on Sunday, 10/3 & 20% of the bill be donated to CMC! See Flyer attached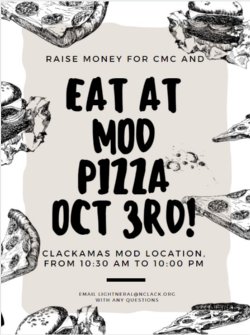 What

Eat at MOD Pizza in Happy Valley on Sunday, 10/3 & 20% of the bill be donated to CMC! See Flyer attached

When

10/3/2021

Where

MOD Pizza - 12091 SE Sunnyside Rd, Happy Valley, OR 97015
Hello CMC community!
This weekend, CMC's Unity Club is collaborating with MOD Pizza to bring CMC a fundraising opportunity! On this Sunday, Oct 3rd, from 10:30am-10:00pm at MOD Pizza's Happy Valley location, there will be an eat-out fundraiser event. When you eat out at this location and time, 20% of your bill will be donated to CMC to support our community, with no extra cost to you! Please mention you are there for Clackamas Middle College's fundraiser when you pay for your meal. View the attached flyer for event information.
MOD Pizza location: 12091 SE Sunnyside Rd, Happy Valley, OR 97015
Clackamas Middle College's (CMC) Unity Club is a student-led organization that provides members with socio-emotional and academic support. Our club consists of a group of diverse, highly motivated high school leaders whose mission is to spread positivity, empower youth leaders, and strengthen the CMC community through collaboration and partnerships. We thank you for any support toward this fundraiser!
Copy to Google Calendar
•
Download iCal Event